Academy of Art University recently began making face shields to assist local health care workers to stay safe by utilizing 3D printers. Max Niehaus, the Academy of Art University's Industrial Design Shop Manager and Instructor led the project and began comparing prototypes of the face shields. Academy of Art University's instructors and students took on the challenge and put their creativity into action.
Max Niehaus became aware of the growing need for face shields for doctors and nurses in the San Francisco area as COVID19 continued to spread. The university has had a close relationship with Saint Francis Memorial Hospital. Neihaus came up with the idea to utilize the 3D printers to create face shields to be donated to San Francisco's doctors and nurses.
The  Industrial Design Shop at Academy of Art University is home to nineteen 3D printers from Prusa, Formlabs, Ultimaker, Projet, and other manufacturers, ranging in price from $1,000 to $250,000 which are normally used by the Academy's product design and automobile departments. The printers weren't being used due to the transition of on-campus classes to the online program.
Neihaus was eager to help and make use of the creative resources available. He stated,  "I'm proud to see our entire university come together to produce potentially life-saving equipment," he added, "Students, faculty, and technicians from the Schools of  Industrial Design, Jewelry, Architecture, and Sculpture have worked tirelessly to see this through. The online 3D-printing community's open-source ethos allowed us to get started, and we look forward to sharing our work with other institutions."
Prototyping and Producing the Face Shields
After thorough research, Neihaus decided to move forward with using a design created by a Swedish organization that produces designs with PLA Silament and 8 ½" x 11" Polycarbonate sheets. He went with this design due to its few parts and shorter production time needs. In addition, the design had received positive feedback from around the world.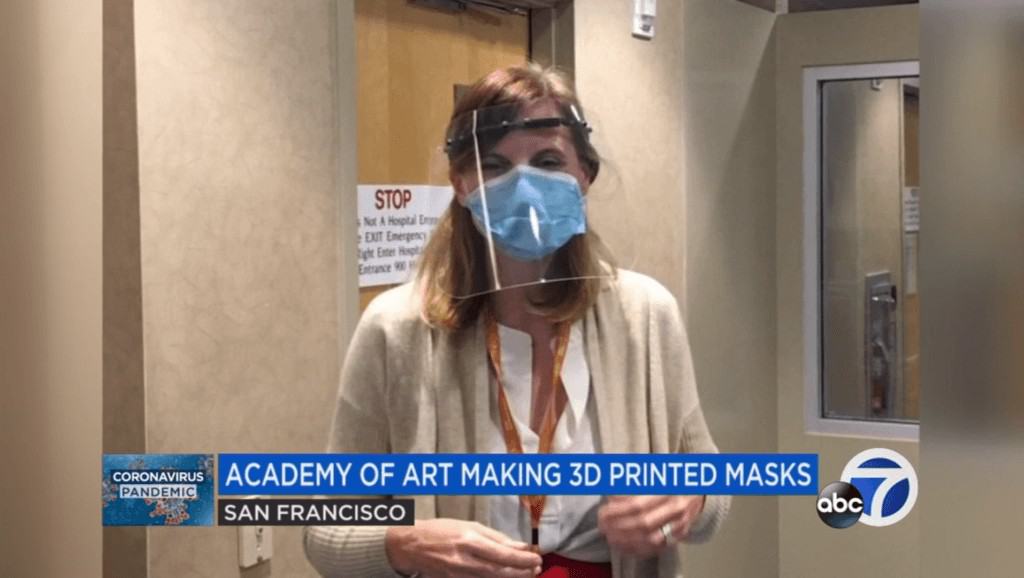 Niehaus and his dedicated team showed some early prototypes to the staff at Saint Francis Memorial Hospital in San Francisco for testing. After making a few additional modifications and requirements to fit their needs, the face shields were approved for use. Niehaus and his incredible team hope to produce one hundred masks per week to fulfill the needs of healthcare professionals, first responders, and front-end workers, and police in the community.
In addition to the current volunteers, the students, faculty, and staff of the School of  Jewelry & Metal Arts who also have access to a 3D printer were also invited to join the initiative. The face shields were collected by the Industrial Design Shop for sterilization and assembly.  His team has created and delivered over one hundred face shields to the hospital with dozens more expected to come. The team's contributions did not go without recognition and were featured in a spot on ABC 7 News. Neihaus issued a call of action to over 10,000 Academy of Art University students to create the parts too.
Response to COVID-19
On March 17th, Academy of Art University canceled on-campus classes until May 23rd and transitioned to online. The Academy also began to offer a range of free online art and design webinars. In addition, the Academy canceled its athletics and events planned for the semester to adhere to the CDC's social distancing recommendations. Neihaus and his team are a powerful demonstration of using creativity to help aid the fight against COVID-19.
Max Neihaus and His Role in Industrial Design
Neishaus is the Manager of the Industrial Design Model Making Shop where he helps empower students to create models for transportation, toy, furniture, product, and jewelry design. He is well versed in prototyping by using 3D printers, laser cutters, CNC mills, and more. In addition, he teaches workshops on rapid prototyping techniques and transportation design modeling.
About the School of Industrial Design 
Academy of Art University's School of Industrial Design offers unique experiences with classes sponsored by leading industrial companies like Volvo and Subaru that provide real scenarios and feedback for students to better prepare for their future careers. With an emphasis on niches such as product design and transportation design, students can get a hands-on perspective into the process of  ideation, research, problem-solving, and designing.
About Academy of Art University
Established in 1929, Academy of Art University is one of the largest private accredited art and design schools in the nation. Located in San Francisco, California, Academy of Art University offers over 135 accredited degree programs spanning across 40 areas of study, including entertainment arts, advertising, fashion, architecture, game development, music, communication, photography, and more.